Truck Accident Lawyers
in Ohio
The Knowledge, Experience and Results Needed to Win Truck Accident Cases
If you have been seriously injured in a truck accident, your focus needs to be on recovery. However, while you work on healing, it is vital to have someone protecting your legal interests. Truck companies usually have large insurance policies, and the bigger the potential claim, the harder insurers work to minimize their payout to you. That's where an experienced and determined personal injury attorney comes into play. When you have an aggressive legal advocate on your side, your chances of recovering maximum compensation increase significantly.
At Chester Law Group Co. LPA, our attorneys have more than 190 years of combined legal experience. We focus solely on personal injury law and have successfully resolved numerous 18-wheeler truck accident claims. In fact, many of our settlements and verdicts have been in the millions. We have 20 office locations throughout Ohio, including our main office in Akron.
Due to the serious nature of tractor-trailer accidents, the federal government has imposed trucking industry regulations that must be followed by all truck companies, truck drivers and any involved third party. These regulations are meant to promote truck and truck driver safety. Unfortunately, these regulations are broken or ignored far too often. Our legal team has extensive knowledge of all applicable truck laws and is skilled in finding the causes of accidents and establishing liability.
OHIO TRUCK ACCIDENT CLAIMS:
GET THE FREE HANDBOOK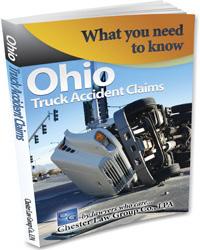 We invite you to download or request a free copy of our book, "What You Need To Know About Ohio Truck Accident Claims," and then contact us for a complimentary case evaluation. Our truck accident attorneys can help you understand your rights and the best options for advancing your claim.
Truck Accident Case Results
DISCLAIMER: The results are specific to the facts and legal circumstances of each of the clients' cases and should not be used to form an expectation that the same results could be obtained for other clients in similar matters without reference to the specific factual and legal circumstances of each client's case. Litigation co-counsel is listed where appropriate.
TRUCKING ACCIDENT: FRACTURED WRIST, MULTIPLE DISK HERNIATIONS.

Our client, a 58-year-old man living in Tippecanoe, Ohio was involved in a trucking when a semi tractor-trailer failed to maintain an assured clear distance and struck his vehicle in the rear. The client suffered a fractured wrist and multiple disk herniations requiring surgery.

Settlement: $362,500; April 2015

LACERATED HAND WITH MULTIPLE SURGERIES AND PULMONARY EMBOLISM.

Our client, a 42-year-old man from Akron, Ohio, was involved in a four-car collision which included a truck. Our client suffered several lacerated tendons in his left hand and his postoperative course was complicated by a pulmonary embolism. The party who caused the motor vehicle collision was liable for the pulmonary embolism as well as the surgery charges since the embolism happened post-surgery and the surgery was necessitated by the collision. Our client underwent a second surgery, extensor tenolysis to his left hand and capsulotomy of his wrist. Medical bills totaled more than $77,000. Insurance was insufficient.

Settlement: Insurance Policy Limits

COMPRESSION FRACTURES | SUMMIT COUNTY TRUCK ACCIDENT.

A 55-year-old man living in Youngstown was involved in a three-vehicle accident on SR 8 in Akron. He sustained compression fractures after a car tried to change lanes and ran into the front of his truck. Insurance was insufficient.

Settlement: Insurance Policy Limits

MULTIPLE LACERATIONS AND BROKEN BONES.

Our client, a 45-year-old man who lived in Grand Rapids, Ohio, was traveling down the road when a semi pulled out in front of him trying to make a left hand turn. Our client hit the side of the semi tractor-trailer. He was transported to Toledo Hospital where he was treated for several lacerations and broken bones. He also had three of his teeth knocked out of his mouth in the collision. He was an inpatient in the hospital where he received treatment for his several injuries, which included a concussion. He wore splints on one of his fingers and on his lower right leg. He underwent physical therapy for less than three months and occupational therapy for less than three months. Chester Law Group Co. LPA settled the case for $525,000 without the need for a lawsuit to be filed.

Awarded: $525,000
WOMAN INJURED BY SEMI: NECK SURGERY.

Our client, a 41 year old woman from Akron, Ohio was injured when a semi changed lanes and smashed into the drivers side of her car. She sustained several injuries including a neck injury which required surgery to repair. The client made a quick and full recovery. The case was settled without the need for protracted litigation.

Awarded: $225,000; September 2014

SEMI TRUCK REAR-ENDS MAN | LORAIN COUNTY TRUCK ACCIDENT.

A 38-year-old man from Lorain suffered herniated discs and multiple sprains when he was in a truck accident on SR 58 in Amherst. A semi truck driver from Mineral Wells, West Virginia, rear-ended the man as he was trying to make a turn.

Awarded: $100,000

DISC DISPLACEMENT | SUMMIT COUNTY TRUCK ACCIDENT.

A 36-year-old man living in Shaker Heights was rear-ended by a male truck driver from Pataskala in Twinsburg on SR 91. He sustained multiple sprains as well as cervical disc displacement.

Awarded: $95,000

TRUCK BACKED INTO PEDESTRIAN | MEDINA TRUCK ACCIDENT LAWYERS.

Settlement for a 60-year-old Medina pedestrian suffering serious injuries after a truck backed into him. Client suffered a dislocated knee that required surgery. When you combine a pedestrian with the added weight of a truck, the results can be devastating. Here, having been struck on the knee, the client suffered a dislocated knee that required surgical intervention. A broken bone could have also occurred due to the massive forces placed on the human body by a truck moving at even low speeds. It is doubtful that the driver of the truck would have even felt the impact of his multi-ton vehicle on a small human body.

Awarded: $80,000

BROKEN BONE AND SURGERY | LORAIN COUNTY TRUCK ACCIDENT ATTORNEYS.

31-year-old Lorain County woman injured when hit by truck. Client suffered a broken bone and also required surgery. Whether or not you are in a car, the forces placed on your body from the massive weight of a truck striking your car or your body can cause serious bodily harm. This is true even if you have the metal in the car to absorb some of the forces created by the massive truck. It is no wonder that the percentage of serious injuries relating to truck accidents with cars and pedestrians is so high.

Awarded: $58,500

HERNIATED CERVICAL DISC | CUYAHOGA COUNTY TRUCK ACCIDENT.

A Richfield man, age 58, was rear-ended by a man from Berea driving a truck on I-77 in Cleveland. He sustained multiple sprains and strains as well as a herniated cervical disc.

Awarded: $50,000

FOOT INJURIES | LORAIN COUNTY TRUCK ACCIDENT.

A 37-year-old man from Garfield Heights was rear-ended by a Columbia Station man on SR 57 in Lorain. He sustained a foot injury and vertebral sprains.

Awarded: $45,000

FAILURE TO YIELD | LORAIN COUNTY TRUCK ACCIDENT.

There was an accident on Furnace St. in Elyria when an Oberlin man failed to yield and hit a truck. The 48-year-old man from Elyria suffered from multiple sprains and strains.

Awarded: $40,000

STRAINS AND SPRAINS | MAHONING COUNTY TRUCK ACCIDENT.

A 54-year-old woman from Cortland was involved in a truck accident on Meridian Rd. in Youngstown when a woman from Youngstown failed to yield and turned in front of her. She sustained sprains and strains from the accident.

Awarded: $32,000

TRUCK FAILS TO STOP, STRIKES VEHICLE | SUMMIT COUNTY TRUCK ACCIDENT.

A 43-year-old Doylestown woman suffered multiple sprains, strains and contusions when a Fairlawn man driving a truck failed to stop at a stop sign and struck her vehicle on Wooster Rd. in Barberton.

Awarded: $30,000

TRUCK DRIVER T-BONES CAR | GEAUGA COUNTY TRUCK ACCIDENT.

A 64-year-old Chagrin Falls man was involved in an accident on Pettibone Rd. in Bainbridge. A female truck driver from Chagrin Falls turned and hit his vehicle on the driver's side. After the accident he was treated for sprains and strains.

Awarded: $25,000

WOMAN LOSES CONTROL, HITS TRUCK | SUMMIT COUNTY TRUCK ACCIDENT.

A 61-year-old Columbus man was injured when a woman from Columbus lost control and hit his truck in the side. The accident occurred on Oakland Park in Clinton.

Awarded: $25,000
Client Testimonials
Attorney Chester helped me to understand my rights and get the proper attention for myself.
- Grace R.
If it hadn't been for Mr. Chester Attorney At law, I probably would have settled too soon.
- George C.