Andrew Farren
Personal Injury Attorney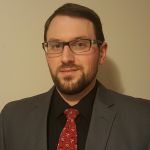 Attorney Andrew Farren joined Chester Law Group in 2018 and is dedicated to personal injury claims and cases.
Attorney Farren obtained his bachelor's degree in Classical and Medieval Studies from Cleveland State University and attended law school at Cleveland-Marshall College of Law, graduating in 2014.
While in law school, Andrew worked for a law firm specializing in insurance litigation and products liability. Upon graduating from law school Andrew was admitted to the Ohio State Bar in June 2015. He is a member of the Ohio Association for Justice (OAJ).
Andrew began his career as a solo practice attorney focusing on family law and small business counseling before joining Chester Law Group and moving into the field of personal injury.
Andrew was born in Hoboken, New Jersey and raised in Lakewood, Ohio, and continues to live in Northeast Ohio. In his spare time, he enjoys working around the house and spending time with his family.
Cleveland State University, Cleveland Marshall College of Law, in Cleveland,  OH
J.D.
Cleveland State University
Bachelor's Degree
Major: Classical and Medieval Studies
Professional Associations & Memberships
Ohio Association for Justice (OAJ)