The Insider's Guide To Handling Ohio Accident Claims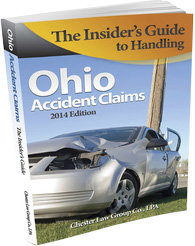 In his new consumer handbook, author and Ohio personal injury lawyer David M. Chester gives consumers a rare look at the injury claim process in Ohio. "Pulling back the curtain," he grants all injured Ohioans access to see how insurance companies and accident lawyers really handle injury claims in Ohio. From his position as an experienced "insider," attorney Chester explains in simple, easy to understand language, what consumers must know to protect themselves while walking in the minefield of dealing with insurance companies. Inside, you will learn:
Common insurance company tactics that can ruin your claim.
Ten secrets you must know NOW to protect yourself and your family.
Do you really need a lawyer to settle your case? The answer may surprise you.
If you want to hire a lawyer, how to pick the best lawyer for you and "check up" to make sure he or she is doing his or her job.
The one mistake almost all injured Ohioans make that really hurts their claims…
…and much more.
The Insider's Guide To Handling Ohio Accident Claims
Please fill out the form to receive your free PDF.