Ohio Dog Bite Injury Claims: What You Need to Know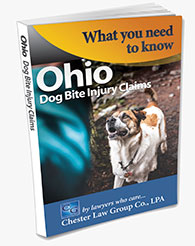 Helping Those Injured in Ohio Recover from their Dog Bite Accidents
Dog bite injuries can be some of the most severe types of accidents that an experienced personal injury lawyer will deal with. In the midst of this chaos, families must decide what to do about this injustice and how to best protect their legal rights. In this book, author and Ohio personal injury, wrongful death, truck and dog bite accident lawyer, David M. Chester explains in easy to understand language exactly why dog bite injury cases are different than other types of accidents and why immediately hiring an experienced Ohio dog bite injury lawyer is necessary in most catastrophic dog bite victim cases. In this book you will learn:
Why you need an experienced Ohio dog bite injury lawyer
How dog bite injury claims are different than other claims and why it matters
5 Mistakes that can kill your Ohio dog bite injury case
6 Common adjuster tricks and traps to avoid before you hire a lawyer
Paying back private or government insurance company at settlement time
What if your family member died: wrongful death dog bite claims
What you are entitled to collect in a dog bite injury claim
9 Secrets you should know about your Ohio dog bite injury claim
Choosing the right lawyer
Ohio Dog Bite Injury Claims: What You Need to Know
Please fill out the form to receive your free PDF.