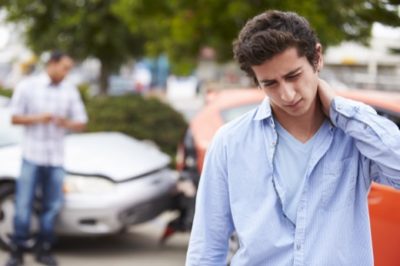 Most often, people know right away if they are injured in an auto accident. However, a neck injury can take days or even weeks to flare up. Unlike fractures, contusions, and lacerations that have clear and evident symptoms, neck injuries don't quite work the same way. You can easily walk away from a traffic accident and feel fine. Then weeks later, feel the aches and pains of neck tenderness and constant headaches. This is one reason why it is imperative to accept any medical evaluation on the scene of an auto accident. Even if everyone seems fine and the accident was minor, go to an urgent care center immediately after the accident to be sure you are injury-free.
Should I See My Doctor Right Away After a Car Accident?
Of course, it is always recommended you at the very least visit an urgent care center right after an accident. You should also schedule an appointment with your regular physician. Having a full checkup and evaluation done can at least put your mind at ease. But, if you are already experiencing the signs of a neck injury, you should keep your doctor informed and explain the details of the accident to them.
This is a case of "better safe than sorry." You need to stay alert for days after your accident, keeping a constant watch on your neck area. A neck injury can take a while to surface and any doctor in Cincinnati, Ohio, will ask why you didn't get checked out right after your accident.
What If My Insurance Claim Closes Before I Notice My Neck Injury?
When they want to, insurance companies can close out claims with remarkable speed. This is for a reason! An insurance claim, once closed, is a done deal. You don't get an opportunity to go back to your insurance company and let them know that now you also have a neck injury from the auto accident.
Late-appearing auto accident injuries are always difficult with insurance companies. The more time between the accident and the diagnosis, the more difficult it is for you to prove that your neck injury is from the wreck.
If your insurance claim closes, you can still contact your insurance policyholder after the fact. This notifies them of the situation, but you can receive a formal notice that a second claim for your wreck in Cincinnati, Ohio won't be processed. This is when you need to start protecting your best interests and consult with an Ohio car accident attorney.
How Can an Ohio Lawyer Help My Neck Injury Case?
Car accident lawyers understand that the symptoms of a neck injury usually take time to reveal themselves. Most people believe that a new headache or stiff neck isn't from the accident because they felt fine right after. Just because you felt fine and believed you weren't injured, it doesn't mean you completely waive your right to any compensation. Your injury claim needs attention if your neck injury is related to the auto accident.
Insurance companies are often skeptical of delayed symptoms or a delayed diagnosis. The repeated question is: why you didn't feel this way at the time of the crash?
When dealing with auto accident injuries, a lawyer can help you obtain medical information and spend time on your case that you may not have available. You probably have a job and don't have time to add more doctor's appointments. A lawyer can help provide a few options to you for your neck injury while you carry on with your life.
No Two Car Accidents Are Alike
An Ohio neck injury lawyer should understand that each auto accident is unique and the injuries sustained in these accidents require individual care and attention. Attorneys can help you identify what value is reasonable for your neck injury. Because each injury is unique, the following factors are usually considered first by your lawyer, and then with the insurance company or other driver's attorney:
Pain and suffering

Medical expenses

Future medical expenses (including necessary rehabilitation programs)

Lost wages
Together, these four categories can build the value that your lawyer can help you seek through a civil lawsuit. An attorney can help you receive compensation and inform you which options will lead to a speedy resolution.
Contact an Ohio Car Accident Lawyer About Your Neck Injury
Car accident lawyers can negotiate with insurance agencies who aren't willing to cooperate with you and compensate claim. Don't fall victim and receive unfair penalization because the symptoms of your neck injury didn't show up right away. Throughout Cincinnati, Ohio, people file civil claims for neck injuries from auto accidents. Contact the Chester Law Group today to see if an attorney can help you with your case.