Losing Someone You Love: The Ohio Family's Guide To Wrongful Death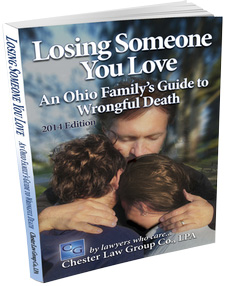 In his new consumer handbook written for surviving family members, author and Ohio personal injury lawyer David M. Chester provides answers to many of the questions asked by the grieving families of victims of wrongful death. From his years of experience dealing with all types of wrongful death claims, Attorney Chester explains in simple, easy to understand language, what families must know to protect themselves while walking in the mine field of the wrongful death process. Building on his first book, entitled The Insider's Guide to Handling Ohio Accident Claims, Attorney Chester explains:
What is a wrongful death claim?
The types of situations that give rise to a wrongful death claim
Who gets money from a wrongful death claim?
Who is in charge of the wrongful death lawsuit?
What responsibilities this person in charge of the lawsuit has to the other family members?
What type of damages can be collected in a wrongful death claim?
Who determines how much money each family member gets?
How much proof is needed to win an Ohio wrongful death claim?
How to prove the elements of a wrongful death claim?
How long you have to file a wrongful death lawsuit in Ohio? It may be as short as 6 months.
Common defenses that can destroy a wrongful death claim and how to avoid them
6 common places to find insurance in an auto accident wrongful death claim
4 places that you would never think to look for money in a wrongful  death claim
What an experienced personal injury lawyer actually does for you
How to choose an Ohio wrongful death lawyer …and much more
Losing Someone You Love: The Ohio Family's Guide to Wrongful Death
Please fill out the form to receive your free PDF.