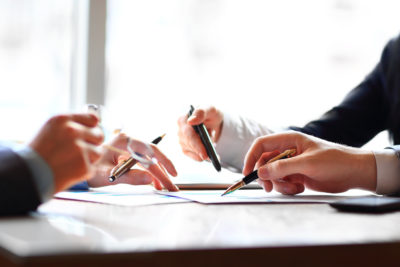 Car accidents in Cleveland, Ohio can be devastating and traumatic for anyone, but this can be especially true for someone injured in the accident. Even though you carry auto insurance, frequently, this coverage is not sufficient to make up for the expenses that you will have to face after suffering from a car accident injury in Cleveland. If you have been injured in a Cleveland, Ohio car accident that was not your fault, auto accident settlements allow you to seek compensation for your medical costs, lost wages, and other damages incurred by the accident.
However, even when the accident may be clearly the fault of the other driver, it is not uncommon for insurance companies to offer inadequate auto accident settlements. This is because their main concern is their bottom line. They want to pay as little as possible for your damages, regardless of whether the amount offered will cover your expenses now and into the future. In these cases, it is necessary to pursue legal action in order to recover the compensation to which you are entitled. If you have been injured in a car wreck and you are not sure whether you should accept a settlement, the auto accident attorneys at the Chester Law Group serving Cleveland, Ohio are here for you.
Contributory and Comparative Negligence in Cleveland, Ohio Auto Accident Settlements
In the legal system, there are two methods by which the question of fault is settled in any injury case, including auto accidents. Contributory negligence considers the actions of both plaintiff and defendant and, should it be found that the victim of an auto accident injury contributed to the event of the accident, that defendant could be barred from receiving any auto accident settlement at all. This is a very harsh system which many states are abandoning in favor of the fairer comparative negligence system, and Ohio is one of those states.
Since 1980, Ohio has used a comparative negligence system rather than pure contributory negligence. Under this system, the negligence of all parties is considered. One vehicle's driver, for instance, may be guilty of failure to yield at a four-way stop, but the other driver may have been speeding. The first vehicle, in this case, was clearly more negligent than the second, but the second driver contributed to the severity of the accident by going too fast, and will likely see their auto accident settlement reduced as a result, but not eliminated.
How Negligence is Determined in Auto Accident Settlements
The process of answering the question of negligence after a Cleveland, Ohio car accident is not simple. Legally, negligence is defined as actions (or inaction) which place others at risk, where the person doing the action knew or reasonably should have known, about this risk. Some examples of negligence include speeding and failure to yield the right-of-way as in our above example, but they can also include failure to stop for a traffic signal, failure to maintain control of a vehicle, and impaired or distracted driving.
The work of determining a driver's negligence begins at the accident scene. Police will arrive and will perform an investigation at the scene, including interviewing any drivers and witnesses involved. They may take photographs and in the case of a severe accident, they may wish to reconstruct the events. Once this investigation has concluded, the police will make an initial determination of fault in the Cleveland, OH car accident.
What Should I Do After an Auto Accident in Cleveland, Ohio?
If you have been injured or involved in a car accident in Cleveland that leads to more than just a minor scrape or dent, the first thing you must do is contact emergency services. By calling 911, you will summon police and emergency medical assistance to the scene of the accident. Even if you do not believe that you are injured, you should seriously consider being seen by medical professionals as soon as possible following the accident. Symptoms related to injuries like whiplash or other head and neck injuries may not manifest for hours, or even days, following the car accident. In addition, if you are injured, delaying medical attention can give the other insurance company a reason to suspect that your injury was not caused by the accident. Seeing a doctor as soon as possible eliminates any doubt.
As soon as you can following your accident, you should consult an auto accident attorney in Cleveland, Ohio. This ensures that the attorney has ample time to gather information and documentation in order to analyze your case. While you must report the accident to your insurance company, it is important that you do not give any insurance representative, including your own, any kind of statement admitting full or partial fault for the accident before you consult with an auto accident lawyer. Insurance companies are primarily interested in their own bottom line, and your attorney will help you avoid incriminating yourself and ensure that you receive the largest possible auto accident settlement in your case.
Consult with an Ohio Attorney About Auto Accident Settlements
If you have been injured in an auto accident in Cleveland, Ohio, contact the Chester Law Group today and let us work to help you recover the auto accident settlement you deserve.